Otherwise known as the half-baked story page.
Salvaged by Paul James D., staff writer.
[I apologize in advance —PJD]
CW finalizes plans for new album
Finally, to the delight of fans worldwide, a new Catherine Wheel album is set to be released! Details of the upcoming release were detailed Tuesday, as follows:
The Catherine Wheel will hit the road introducing their release Distort Yourself in August. The band's vocalist and guitarist Rob Dickinson, guitarist Chris Traynor, bassist Cache Tolman, and drummer Charlie Walker will be offering a taste of the album's throttle during the intimate club tour.
Distort Yourself (to be released on September 13) was produced by Page Hamilton of Helmet, with Dickinson and Photek producing the album's first single, "Bulletproof Skin", which goes to radio on August 2. The song will also be featured in Sony Pictures' upcoming Stealth (starring Jamie Foxx).
Each of the previous Catherine Wheel albums?—Sixteen Stone, Razorblade Suitcase, The Science of Things and Golden State?—have attained certified platinum status… oh wait, never mind. I'm talking about Gavin Rossdale. Oops.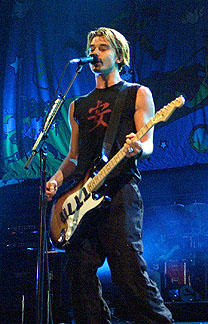 Dickinson in action.
Hawes locked out of chemistry lab
Former Catherine Wheel bassist Dave Hawes' attempt at reviving his career suffered a setback Tuesday, as he was locked out of his college chemistry lab.
Hawes is attending Ashtabula (OH) Community College in the wake of his demise as an Internet music retailer. Although Hawes set up a website with high hopes years ago, he is currently stalled at just over 17,000 hits?—even fewer than I Can't Believe It's Not Futter, the ultimate measure of Web inanity.
The incident in question took place as Hawes was doing work for Chemistry 101, one of the undergraduate General Education courses for an Associates Degree in music. Although Hawes has been doing well in his studies to date, his inability to complete his lab hours may cause him to fail CHEM 101, giving his transcript an unsightly blemish.
"I don't understand!" Hawes said. "How can they expect me to pass this class if they won't even let me into the lab?
"The only explanation I got from them," Hawes continued, "Is that I want to wear gloves in the lab instead of working with my bare hands. I think they've been breathing too many fumes."
Unwritten track one of Wheel's rarest
Catherine Wheel collector Jason E. claims to have one of the most sought-after rarities of all time: a song that the band has not yet written.
"It's a hell of a track, man," he said. "It's sick!?—which means good, for those of you out of the loop."
E. was predictably elusive when asked how he obtained the track.
"I can't tell you exactly how I got hold of this song," he stated. "Let's just say I've got connections. I know people who know people. Who know people."
The track, E. said, is so rare that it's impossible to assess its worth. Nevertheless, he quickly added, "I will be auctioning it off on eBay, along with over 200 other CDs, many of them Cure rarities! My eBay ID is 'lamenting'. Remember that. 'Lamenting.'"
"Obviously, every serious CW collector would prolly be chomping at the bit to have this one," E. gloated, "but unfortunately, I'm the one with connections, not them. Ha ha."
CW Manager Merck Mercuriadis was appalled.
"I don't understand how the little fuck does it," Mercuriadis said. "First, we get wind of rumors that he's found some of our unreleased b-sides. Now he's got a track that is obviously not ready to be released to the public. Of course, we'll be threatening him with legal action. We hope to settle out of court, in exchange for information about his sources, or perhaps some rare King Crimson stuff."
E. seemed amused when informed of these remarks.
"They underestimate me," he said. "I know my power! I design web pages for a living. I administer my own web server. I used to run the unofficial page!!! I have connections! I make thousands of dollars from eBay alone! 'Lamenting'!!! They can't stop me! I am indestructible! I am a legend! I am God! You want me, Merck? Come and get me! You just try!! Hahahaaaaa! 'Lamenting'!"
Futter's actual height: 8′ 7″
The secret is out. We all knew CW guitarist Brian Futter was rather lanky, but few of us would have guessed that he is actually eight feet, seven inches tall, according to a memo released by Manager Merck Mercuriadis.
"We figured that this would be the best time to admit the truth," Mercuriadis stated. "Brian is a bit embarrassed by the whole thing, but the rumors going around are so numerous, we think it's time to put an end to them with the facts."
According to the memo, Futter is "reserved" and likes to avoid attention. Therefore, the band and management take great pains to disguise the fact that their lead guitarist is one of the tallest men in history, just four inches short of record-holder Robert Wadlow.
The memo stated that while on tour, Futter stands in a small pit onstage designed especially for him, which makes him appear only slightly taller than the other band members.
"He wears black clothing night after night in order to blend in with the stage floor," the memo continued. "He stands in a shadowed corner without moving around much in order to keep the camouflage intact. He also tends to avoid direct contact before and after shows. For over a decade, the trick has worked. His height has never been a major question among even the most dedicated fans."
The aforementioned rumors became widespread after CW bass player Ben Ellis accidentally let it slip that Futter lives at the top of a beanstalk with Krist Novoselic and Thurston Moore.
Dickinson spotted wearing Pumas
A Catherine Wheel fan reportedly snapped a photograph of Rob Dickinson wearing Puma tennis shoes while shopping alone in Times Square last Tuesday.
According to the fan, the shoes were white, with the Puma logo appearing quite boldly on the side, in black. To date, management has vehemently denied the existence of the photo.
The fan said he is offering it to numerous tabloids for $10,000. So far, no takers.
[Writer's note: This is probably the stupidest story ever. So far, at least. But give me time. I'll top it.]
Wishville goes platinum on Pitcairn Island
Catherine Wheel fans can breathe a bit more easily now. The band's fifth studio record, Wishville, has finally achieved gold status in one of the earth's territories.
Pitcairn, a small island in the South Pacific with a population of 60, is a commonwealth currently controlled by New Zealand, with an independent economy.
Like the US, which requires 1,000,000 records sold to achieve platinum status, and the UK, which requires 100,000, Pitcairn's platinum standard is also based on population.
"We require that one copy be purchased by a resident of the island for the record to achieve platinum status," stated Gary Molokandi, president of the Pitcairn Association of Recorded Music (and chief of police, and head fisherman, and principal coconut-gatherer). "Wishville has met that requirement, and therefore deserves our congratulations."
Gary's son, Buddy, received Wishville from Columbia House via airmail last Tuesday. He had actually ordered a copy of Christina Aguilera's Spanish-language magnum opus Mi Reflejo, but was sent the incorrect CD. Columbia House refused to exchange the CD, he said, because the shrink-wrap had been partially opened.
"Therefore, the sale stands," Gary Molokandi concluded. "Congratulations, Catherine's Wheel!"
To certify the event, Pitcairn officials say they have prepared a wreath of native flowers for presentation to the band the next time they visit the island. Perhaps surprisingly, Manager Merck Mercuriadis has booked a flight for next week.
"As if we had anything else to do," he said.
Mercuriadis returns tracking device for refund
Catherine Wheel Manager Merck Mercuriadis is returning his sophisticated tracking device to the manufacturer, claiming that the device doesn't function correctly.
"I spent a lot of money on this thing, and I haven't been able to track anyone yet," Mercuriadis said, a note of exasperation in his voice. "I'd sure like to be able to do that, so that I can follow up on my threats of legal action."
Among the acts Mercuriadis is attempting to thwart are illegal postings of mp3 files (an activity that costs the band more than £2.50 annually, he said), less-than-flattering reviews of Wishville, and malicious impersonations of lead singer Rob Dickinson on the discussion boards.
"If we could get these legal actions under way, I'd be much happier," Mercuriadis said. "If we were rewarded some money, I wouldn't have to fund so much of my salary from the Wishville royalties."
Webmaster Gerry Moylan said that Mercuriadis will be able to purchase a new tracking device with funds from CW merchandise sales on the official site. These funds will be coming in very, very soon, Moylan promised.
[home]