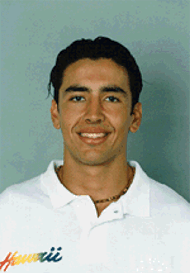 Escobar, on the verge of discovery.
Mike G.
Co-Editor In Chief
Catherine Wheel fans worldwide can't help but love the emotional rollercoaster of "Heal," the powerful Happy Days ballad. But few, if any, have been able to interpret the meaning of the famous line "Everyone needs someone to live by." We recently talked with CW guitarist and singer Rob Dickinson, who wrote the song, in hopes of finally clearing up the age-old question: What does this line mean?
"Oh, that little old thing?" Dickinson laughed. "It's quite simple, really."
While the band was touring in Spain, Dickinson said, he became acquainted with a young fan by the name of Juan Escobar. While the two were having a drink backstage one night, Escobar confessed that, although his relationship with his girlfriend had never been better, he had somehow begun to feel attracted to men as well as women.
"Though, of course, I could NOT RELATE!!!!!!!!" Dickinson said, "I sympathized, gave him some advice, and wished him luck in pursuing his sexuality."
The tour moved on to North America, but Dickinson kept in touch with Escobar by mail, asking him how things were going. Escobar had apparently explained the situation to his girlfriend, and thankfully, she was very understanding.
"The problem was," Dickinson said, "Juan just wasn't satisfied with any of the male relationships he had attempted to establish. He wrote me often, relating tales of failed liaisons with an older Irishman, an African American, and even a man who worked for the Italian government. Though the attraction was there, the chemistry wasn't.
"So of course, he again asked me what to do," Dickinson said.
Dickinson suggested that perhaps Escobar would be more comfortable with a fellow Spaniard of roughly the same age. "More similarities, more common interests," Dickinson reasoned.
Escobar took the advice, and soon he was in a happy relationship with a young man from Barcelona, also by the name of "Juan." Together with Escobar's girlfriend, the three made "quite a happy threesome," Dickinson said. "And of course they were infinitely thankful to me for my kind advice."
Genuinely pleased that everything had turned out so well, Rob penned this one-line dedication:
Every Juan needs some Juan to live 'Bi.'
…and inserted it into the song "Heal."
While overseeing the production of the lyric sheet, however, Manager Merck Mercuriadis realized that Walmarts in conservative areas might object.
("Merck is a walking public relations machine," Dickinson noted.)
Rather than asking Rob to re-record the line, Mercuriadis simply changed it on the lyric sheet to the familiar cryptic phrase that Catherine Wheel fans throughout the ages have grown to love and cherish: "Everyone needs someone to live by."
"Whatever that means, you'll have to ask Merck," Dickinson said. "It certainly makes far less sense than the original lyrics. But I know that when I'm singing it, I'm thinking about that good old bisexual Spaniard, Juan."
[home]